Fraud Patterns in 2021 (Global)

Global Frauds Surge 58%, Becoming the New Normal in the Post-Pandemic Era

In 2021, the world suffered from the panic caused by COVID-19 and yet at the same time saw emerging hopes brought by economic recovery. Within this context, disease prevention policies, vaccination, relief programs, stock markets, and even virtual currency became common scam themes. Statistics from Whoscall indicated that the total number of queries for scam calls and text messages reached 460 million in 2021, a 58% increase from last year. The spiking number of scams is expected to become one of the new normal in the post-pandemic world.
With low costs and high penetration rates, the number of scam text messages surged month after month in 2020 and remained its peak momentum even in 2021. As a result, the world saw a 30% growth in phone scams in the past year. Deep diving into the main types of scams in each region, Taiwan suffered mainly from stock investment scams due to its booming stock market, whereas in Hong Kong, Malaysia, and Korea, scammers disguised as prosecutors were reported. In Japan, fake power company staff made scam calls to arrange maintenance services for consumers and tricked them into paying the maintenance fees.
With Surging Scam Text Messages and Localized Frauds, Thailand, Korean, and Japan Are Suffering from Malicious Apps
Whoscall indicated that global scam text messages surged by over 70% in 2021, with phishing links being the most common type of attack. Victims were lured to add fake accounts on social media, access fake websites, or even download malicious apps. Deep diving into regional growth of scams, Taiwan, Brazil, Thailand, Japan, Malaysia, and Korea had experienced severe scam problems.

In particular, Taiwan suffered mainly from stock investment scams, and phishing links misleading users to download malicious apps were reported in Korea, Japan, and Thailand. In Korea in particular, numerous victims reported remote implanting of malware on their phones. In Japan, scammers pretending to be power companies sent phishing SMS that asked users to download malware and disclose sensitive information. Users became victims of identity theft, and their credits cards were stolen and used to purchase gift cards on online shopping malls. In the end, Japanese telecommunication service providers announced that they would provide full compensation (totaling 1 billion Japanese yen) for the victims.

Eric Lee, Technical & R&D Director of Software and AI Technology of Gogolook, indicated that "Malware are often unable to be published on legal app marketplaces as they contain security loopholes. Therefore, scammers would try to trick users into downloading APK files via phishing links, bypassing permission reviews conducted by the marketplaces. After installation, malware may demand small amount payments or steal sensitive information. The tricks commonly reported in surrounding countries have also been reported in Taiwan, so we would strongly suggest not to install apps from unknown sources to avoid potential frauds."
Fraud Patterns in 2021 (Taiwan)

Scammers Smell Profit Amidst Stock Market Craze, 2021 Becomes the First Year of the Stock Market Scam Era
As the stock market fever continues to burn, the total number of people with stock market accounts is fast approaching 12 million. This has become an alternative "money tree" for scammers. According to Whoscall statistics, investment scam calls and messages made up over 60% of total scams in 2021. 2021 can be called the first year of the stock market scam era!
Scammers often take on the guise of securities companies, market tracking systems, investment gurus, or even bank managers to push certain stocks and gain your trust. Whoscall went one step further and collected the top 500 reported scam messages and made a list of the annual top scam keywords. Most high-risk messages contained keywords that mention stock market chat groups or investment advisors. Among these scam keywords, "trending stock" appeared 42% of the time and "claim now," and "add Line" appeared 36% of the time. This shows that phone calls and messages are used by scammers to establish first contact with their victims and then they use messaging applications (like Line or Telegram) to construct an even more elaborate scam scenario.
Common methods include using the characteristics of the Hong Kong Stock Exchange where there are no price fluctuation limits to convince people to buy chop stocks (commonly known as "penny stocks") and selling for a profit once prices rise. Scammers might even create a cryptocurrency trading app or website that can basically pass for the real thing and trick investors into thinking that they are making legitimate investments. In reality, they are transferring funds to dummy accounts and will lose everything they put in.
A Recap of 2021 Scam Call Tricks, Scam Calls Peaked in July
Whoscall had blocked over 13.12 million scam calls in Taiwan during 2021. When compared to the 5.2 million calls blocked in 2020, there was an increase of 150% that came mainly from rampant investment frauds. In addition, scams regarding domestic travel and lodging started cropping up in March of 2021 and ramped up in intensity when lockdown was relaxed in July.
The Travel Voucher craze in November only added fuel to the fire and the frequency of travel scam calls rose once more.When Taiwan saw its first cases of the coronavirus in May and June, scammers tricked people out of their personal information by pretending to be government officials conducting an epidemic survey.In July and August, the stock market saw volatile swings and investment scams were once more in full swing. At the end of the year, a new scam popped up in which the scammer claimed to be from the Road Running Association and that a system error required marathon runners to complete credit card payment once more. In recent years, scams have mainly revolved around current social events to increase the chances of people believing the lies. This only highlights the importance of the populace to be equipped with basic anti-fraud knowledge.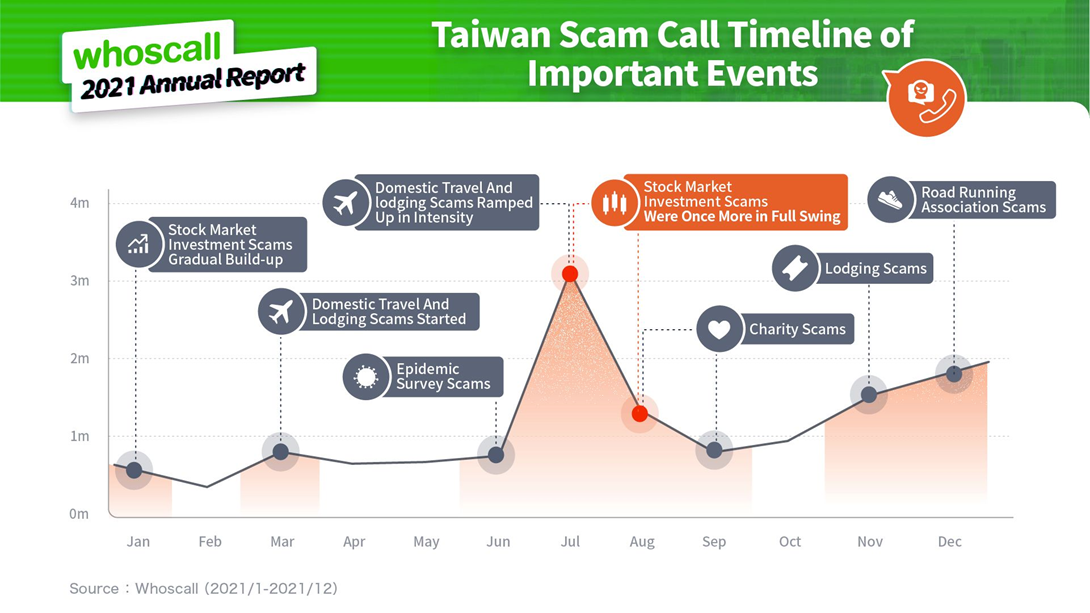 Are Calls From (+886) Taiwan Numbers Safe? Don't Let Your Guard Down, Over 330 Thousand Scam Calls Use This Trick
Even if there are a plethora of phone scam tricks, there are still several defining high-risk characteristics that give scams away. Among which, if you see a phone number with a "+" sign in front, they usually are from international scammers. Scammers take advantage of the fact that people recognize "+886" as the international calling code for Taiwan and let their guards down more easily. In reality, apart from a few international roaming calls from mobile devices, phone calls starting with "+886" are usually spoofed calls. It's important to note that the combination of "+886" and a domestic number doesn't exist.
In 2021, Whoscall blocked over 500 thousand scam calls to Taiwan that used a spoofed number. People should look out for three major categories, the first being "+886" and its variants such as "886" and "0886" making up the bulk of the spoofed calls. The second being numbers that start with a "+"(e.g. +2 or +0). The third being numbers that are abnormally short, such as phone numbers that are only four to six numbers long (e.g. 220xxx). Eric Lee, Technical and R&D Director of Software and AI Technology at Gogolook states, "In order to deal with attacks from international spoofed numbers, Whoscall has teamed up with the Criminal Investigation Police Office 165 and came out with an "Anti-Counterfeit Number System" that can promptly detect spoofed numbers and catch scam calls through weekly updates to the database.

Scam Messages Almost Doubled in Taiwan? Scams Pretending to be Banks, Investment, or Loans All Part of the Reason
Whoscall has blocked over 52.25 million scam messages this year, almost double from last year. In retrospect, key fraud incidents occurred after Chinese New Year in February where scammers pretended to be banks in Taiwan to send phishing messages urging people to "re-login and link their bank account information." Losses amounted to over 10 million NTD and the victims were often the younger generation or even students that are used to online banking. While scam calls on investments swiftly increased, July and August also saw a rise in investment scam messages and set two consecutive monthly highs. In September and October, a new method of phishing scam messages pretending to offer relief loans emerged. However, most of the loans are just from dubious loan sharks.
Spam Messages Categories Disclosed! Stock Market, Loans, and Fake Landing Pages Take Top Three


According to the content of user-reported messages, Whoscall has sorted spam messages into six major categories: stock investments (67%), relief loans (20%), fake landing pages (6%), gambling entertainment (5%), hookups (1%), and online shopping packages (1%). There may be a variety of spam messages, but they are mostly similar in nature. Scammers will take advantage of the greed, lust, or fear of their victims and spring their trap. Whoscall once again reminds people not to follow suspicious links in unknown messages or to scan suspicious links before opening them.
Whoscall Taiwan Phone and Message Scam Trends 2021
Whoscall is Not Only Your Anti-fraud Buddy, But Also Your Time-saving Partner!

Whoscall assists its users to avoid telemarketers, never miss important calls, and steer away from scam calls all thanks to its unknown number identification technology! In Taiwan, one out of every two people use Whoscall and it can even be called a "National App." In 2021, Whoscall had assisted the average user to identify 128.3 unknown numbers; including 4.4 scam calls, 40.4 telemarketing calls, and 83.5 important calls. When it comes to messages, Whoscall has identified 648.3 unknown messages; including 17.5 scam messages, 330.5 spam messages, and 300.3 important messages. Whoscall not only protects people from fraud, but also greatly reduces the inconvenience of unknown messages or calls to create efficiency in both life and work.

Investment Calls and Spam Calls On the Rise? Whoscall: Not Just Your Imagination
In late 2021, a netizen posted a question that caused a lot of discussion on the Taiwan online forum PTT asking, "Does anybody know why there seems to be an uptick in investment and spam calls?" According to Whoscall's latest report, the number one fastest growing category of spam calls is investment calls. The annual average number lookup of a Whoscall user is more than four times, which is a growth of more than 1000%. Some common categories include promotions for classes and investment software recommendations. The most hated "one-ring calls" or calls that hang up as soon as you pick up saw a growth of 20% and rank number two in growth. When it comes to the category making up most of the calls, financial loan calls from non-financial institutions (e.g. car loans, private banks, and finance companies) is still in the lead. This signifies that while there may be an active capital demand in the market, the risk of loan scams and high-interest loans is constantly looming in the shadows.

2021's Top Ranking Number Reporters! First Place Reports an Average of 11 Numbers Per Day
To date, Whoscall has amassed the most comprehensive number database in all East Asia with more than 1.6 billion numbers in its database that is made up of first-hand sources from police agencies all over the world, a large number of user reports, AI anti-fraud technology, and open data. In 2021, the top ranking number reporter of Whoscall in Taiwan reports a whopping 4,208 numbers. That equates to an average of 11 numbers reported per day and is double that of second place. Due to the ever changing nature of spam calls, timely reports can help increase the accuracy of unknown number identification and help others avoid falling for scams.
Don't You Call This Number Again! One User Blocked 930 Numbers in 2021

Whoscall provides premium users with the auto-block function, but also provides free users with the manual blocking function. Users can easily block scam calls, car loans, telemarketers, or one-ring calls and not waste another second on these numbers. According to Whoscall's statistics, one user blocked a total of 930 spam calls in 2021 which is equal to blocking more than 2 numbers per day!